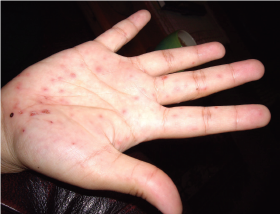 Hand, foot and mouth disease in late 3rd trimester of pregnancy: A case report
Abstract
We present a case of a 28-year-old primigravida who was diagnosed with hand, foot and mouth disease (HFMD) at 39 weeks gestation. Patient had the classical rash over her hands and feet but was otherwise well. The baby was delivered at 40 weeks via Caesarean section and was well after delivery. We discuss the literature associated with hand, foot and mouth disease in pregnancy as well as briefly discuss complications associated with the causative organisms of HFMD.
DOI:
https://doi.org/10.36877/pddbs.a0000056
Refbacks
There are currently no refbacks.
Copyright (c) 2020 Pusparajah Priyia, Joanna Xuan Hui Goh, Learn-Han Han, Prithvy Lingham

This work is licensed under a
Creative Commons Attribution-NonCommercial 4.0 International License
.