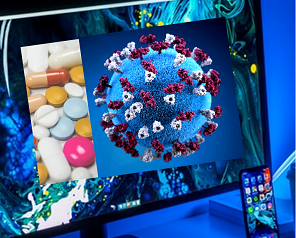 Computational screening and identifying binding interaction of anti-viral and anti-malarial drugs: Toward the potential cure for SARS-CoV-2
Abstract
Since the emergence of 2019 novel coronavirus (also known as SARS-CoV-2) to date, effective treatment for the patients was reported to be some anti-viral for flu and HIV-1 or anti-malaria drugs. To understand the finer details of the molecular interactions and complexation between these proteinase inhibitors and the COVID-19, virus sequence analysis in comparison to SARS coronavirus and molecular docking were carried out. Results showedfavourable binding for the current treatment of drugs and 7 additional possible effective drugs, DB06290 (Simeprevir, Hepatitis C drug), DB09183 (Dasabuvir, Hepatitis C drug), DB01232 (Saquinavir, HIV-1 drug),  DB00254 (Doxycycline, Malaria drug), DB01117 (Atovaquone, Malaria drug), DB04835(Maraviroc, HIV-1 drug), DB08930 (Dolutegravir, Hepatitis C drug) with good binding affinities towards COVID-19 in the range of -8.7 to -8.0 kcal/mol. Analysis of the interaction residues of the docked complex was mapped in a 2D diagram to explain the interaction with the proteinase binding pocket. Repurposed drugs from our recommendation may help battle the new coronavirus and subject for additional examination.
DOI:
https://doi.org/10.36877/pddbs.a0000065
Refbacks
There are currently no refbacks.
Copyright (c) 2020 Vannajan Sanghiran Lee, Wei Lim Chong, Sri Devi Sukumaran, Pivarat Nimmanpipug, Vengadesh Letchumanan, Bey Hing Goh, Learn-Han Lee, Sharifuddin Md. Zain, Noorsaadah Abd Rahman

This work is licensed under a
Creative Commons Attribution-NonCommercial 4.0 International License
.