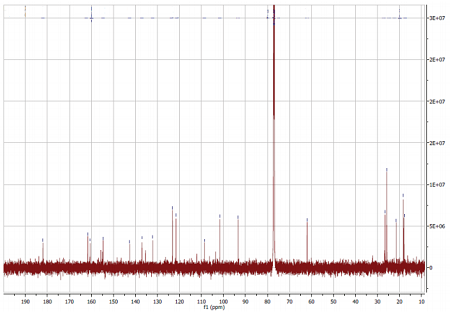 A Rapid Method for the Retrieval of Bioactive Xanthone from Garcinia Mangostana: A Case Study of α-Mangostin
Abstract
Natural products have been used as the functional food and alternative treatment to combat various diseases for centuries. A handful of bioactive compounds that are available clinically such as antibiotic, anti-neurodegeneration, and anticancer drugs were derived from natural products. Recent study showed that α-mangostin, a natural occurring prenylated xanthone, possesses a wide variety of pharmacological activities including anti-cancer, anti-inflammation, anti-bacterial, anti-viral, and anti-neurodegenerative. In view of the pharmacological importance of α-mangostin, a rapid extraction method is paramount importance to recover the α-mangostin from natural resources to cope the therapeutic needs and potential for future clinical translation. The yield of α-mangostin was 9.2 g/kg DW. This study presents a simple, cost effective, and rapid extraction with identification of α-mangostin from the pericarp of the mangosteen fruit.
DOI:
https://doi.org/10.36877/pddbs.a0000072
Refbacks
There are currently no refbacks.
Copyright (c) 2020 Kooi Yeong Khaw, Yong Sze Ong, Bey-Hing Goh

This work is licensed under a
Creative Commons Attribution-NonCommercial 4.0 International License
.